40 Thoughts of Jesus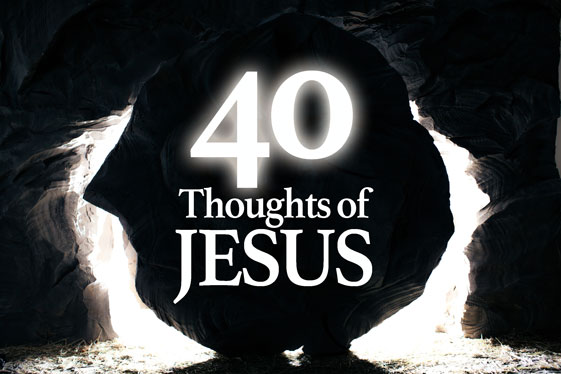 Before you start reading the Thoughts, understand how the 40-day challenge works. Read more about it here and  follow the instructions. Then, and only then, return to this page and start reading from Thought # 1.
Welcome to the 40 Thoughts! Your mind will never be the same. And you already know what happens when we change our mind: we change our life. So before you start, make sure that this is what you want .
The 40 Thoughts of Jesus
Thought #1 — Your purpose in life
Thought #2 — Preparation and greatness
Thought #3 — Rejecting the medicine
Thought #4 — Closed for new ideas
Thought #5 — Acquaintance and limiters
Thought #6 — It's not what, it's Who
Thought # 7 — Your four strengths
Thought #8 — The job of thinking
Thought #9 — Do you want better days?
Thought #10 — You, murderer
Thought #11 — How to conduct your relationships
Thought #12 — Alone or in a team?
Thought #13 — Do you qualify to be a judge?
Thought #14 — A new blood in your veins
Thought #15 — Would you pass this test?
Thought #16 — The working hours of faith
Thought #17 — The golden rule
Thought #18 — Sewage coming out of the faucet
Thought #19 — Did you see Superman in a miniskirt?
Thought #20 — The model Family
Thought #21 — A hard blow
Thought #22 — The upside down world
Thought #23 — This is the time, here is the place
Thought #24 — The address of God
Thought #25 — The two legs
Thought #26 — Be suspicious of those who swear
Thought #27 — The secret to being honored in public
Thought #28 — Only for those who want to be rich
Thought #29 — The poor Bill Gates
Thought #30 — He hates losing
Thought #31 — The cake box
Thought #32 — Is it a ghost?
Thought #33 — Sissifying the Lord of Hosts
Thought #34 — It will be required of you
Thought #35 — Anticipating, defining, solving
Thought #36 — Self-righteousness syndrome
Thought #37 — The greatest victory
Thought #38 — Healthy body, healthy mind, lifeless life
Thought #39 — What is that up ahead?
Thought #40 — Shine!
40 Thoughts — Conclusion
4 Responses to "40 Thoughts of Jesus"